Our classes at Sun Martial Arts are a fun way for both boys and girls to achieve fitness and focus. Our classes help teach self-discipline and socialization skills. In fact, many parents report great success with our program because self-control and concentration are exactly the skills they want for their kids. Our High Energy classes begin and end with a bow to the Instructor. After a warm-up, students practice our art's particular skills, which may include kicks, punches, and blocks along with fun skill building drills and exercises. Progress is marked by the belt system, which takes the beginner from a white belt through a variety of colors. Graduating to each new level, generally every several months, is a fantastic exercise in setting and achieving goals.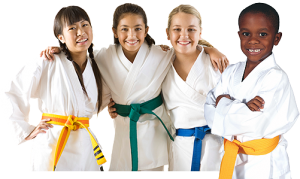 But, it's the self confidence and respect kids learn, whether from bowing or standing still and waiting for the next command, or getting up in front of the class to demonstrate a technique..that can be the most important benefit: It carries over into school, helping to improve behavior and even grades, according to recent research. Ages 4 to 6 is a good age to start classes, But all ages will benefit greatly from the training.
Evaluate our program and see for yourself how your child can benefit from our Martial Arts classes,
Click here to enroll in a 2 week trial program for only $29. If you are one of the first 20 people to do so, you will also receive a free martial arts uniform! If you are unhappy with our program for any reason, we will gladly refund your money! You can even schedule your first lesson online!
There is no risk, and this offer will expire soon so….
Enroll Now !
PS. If you would like to learn more about what to look for when choosing a Martial Arts School, CLICK HERE.